Hiking trail from Les Chavants to Col de la Forclaz via Charousse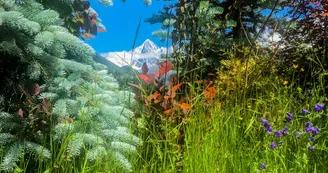 58 Place du Prarion
74310 Les Houches
1306 Chemin du Col de la Forclaz
74190 Passy
A mountain pass located in the midst of a spruce forest. This route was used by the Romans back in the 1st century to travel between the Saint-Gervais and Chamonix valleys. On the route of the Tour du Mont-Blanc At the top of the village, take the road on the right towards the Côte des Chavants. Go up to the left on the path that leads to the Granges des Chavants (1 256 m) 0 h 40. On the left, an itinerary goes towards the Col de Voza. Continue to the right on a path on the side that crosses corridors to go into the forest (Vaudagne water reservoir). In a bend (1 282 m), it joins the forest track coming from Vaudagne which reaches the pass by a rather steep climb. Routes : It is possible to go down to Vaudagne by using the path, partly GRP variant, by the Mont-Borrel and the Bouchards. - In the same way, it is interesting to come back by the village of Vieux-Servoz and Servoz by using the GRP variant itinerary by Montcoutant and le Châtelard, on the descent. Other itineraries are possible from Vaudagne or Le Prarion. More information is available at the Tourist Office or the Office de Haute-Montagne and in our trail guide. Attention : The conditions of the trails are likely to change, think of informing you before leaving.
Your contact
Office de Tourisme de Chamonix
85 place du triangle de l'amitié
74400 Chamonix-Mont-Blanc
This route is proposed by: Office de Tourisme de la Vallée de Chamonix-Mont-Blanc
Be careful and prepared during your getaways. Loopi and the author of this sheet cannot be held responsible for any problems that may occur on this route.