Coupeau > Servoz trail
Les Houches
> Les Houches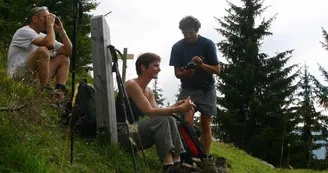 Route de Plaine Saint-Jean
74310 Les Houches
Chemin de Morand
74310 Les Houches
Time : 3h one-way / Difficulty : Medium Altitude : 990m - 800m In the second turn of the Coupeau road, follow the sign direction le bettey/la Flatière. Once above Morand before arriving at Le Bettey, bifurcate to the left direction Montvauthier, once there follow the signs direction Servoz. The return trip can made by car or train from Servoz. Access depending on meteorological conditions. For more information, contact the High Mountain Office of Chamonix: +33 (0)4 50 53 22 08.
Your contact
Office de Tourisme de Chamonix
85 place du triangle de l'amitié
74400 Chamonix-Mont-Blanc
This route is proposed by: Office de Tourisme de la Vallée de Chamonix-Mont-Blanc
Be careful and prepared during your getaways. Loopi and the author of this sheet cannot be held responsible for any problems that may occur on this route.