The Barberine Waterfall trail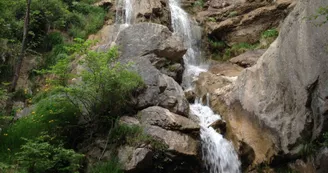 © ot Vallorcine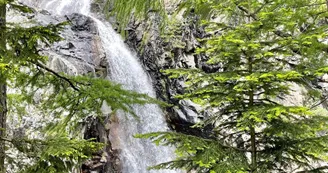 582 Route de l'Église
74660 Vallorcine
Chemin de la Cascade
74660 Vallorcine
Nestled below the Emosson dam, this waterfall is well worth a visit when the river is in spate. Maison de Barberine: museum. Open in July and August. At the end of the village, in the hamlet of Mollard, a path goes through the meadows and becomes a trail. After the Nant du Rand (small stream), stay on the upper path that crosses the hillside: it joins the one coming from Barberine and goes up towards the stream where the waterfall is. Return : by the same itinerary, through the village of Barberine, going down about 100 m on the RD1506, then going up to the right in a clearing. A few steps near the oratory allow you to pass over the tunnel the tunnel of the SNCF track and to join the path of the Black Water which goes up on the right to Vallorcine. Notes : Interesting visit of the Maison de Barberine (Vallorcin museum), open in July and August, located at the exit of the village on the RD1506 side More information available at the Tourist Office or the Office de Haute-Montagne and in our trail guide. Attention : The conditions of the trails are likely to change, think of informing you before leaving.
Your contact
Office de Tourisme de Chamonix
85 place du triangle de l'amitié
74400 Chamonix-Mont-Blanc
This route is proposed by: Office de Tourisme de la Vallée de Chamonix-Mont-Blanc
Be careful and prepared during your getaways. Loopi and the author of this sheet cannot be held responsible for any problems that may occur on this route.