Hike to Chalet du Chapeau from les Tines
Chamonix-Mont-Blanc
> Chamonix-Mont-Blanc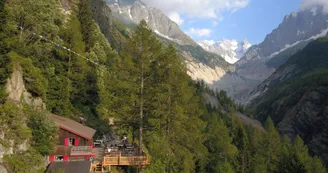 © Pierre Lopez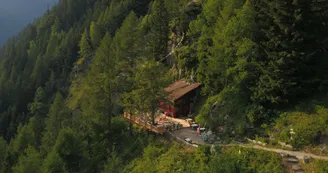 1525 Route des Tines
74400 Chamonix-Mont-Blanc
Via Corda Alpina
74400 Chamonix-Mont-Blanc
Viewpoint over the Mer de Glace, the Gorges de l'Arveyron, the Aiguilles and the Chamonix valley. Summer: In front of the railway station of Les Tines, enter the wood by the Chemin de la Pierre n°2 : classified site. A little way above the reservoir, turn right on the Sources de l'Arveyron path, then, at the next intersection, turn left along the Chapeau itinerary. You'll find the buvette du Chapeau at the end of the path. Other routes are possible from Les Bois or Le Lavancher. Winter: Winter hiking with snowshoes, crampons or good shoes. Please check snow conditions before setting off. The Chapeau refreshment bar is open weather permitting. More information available at the Tourist Office, the High Mountain Office or in our trail guide. Warning: Trail conditions are subject to change, so please check before you leave.
Your contact
Office de Tourisme de Chamonix
85 place du triangle de l'amitié
74400 Chamonix-Mont-Blanc
This route is proposed by: Office de Tourisme de la Vallée de Chamonix-Mont-Blanc
Be careful and prepared during your getaways. Loopi and the author of this sheet cannot be held responsible for any problems that may occur on this route.