Charme pasture trails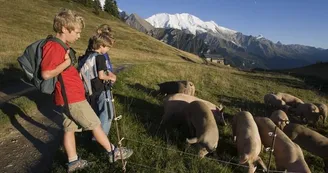 2571 Chemin de Montivon
74170 Saint-Gervais-les-Bains
This path winds through the rodhodendrons and heather. You will discover sheep, goats, cows and horses and can stock up on cheese made by the shepherd. Departure : Access by the Prarion cable car Duration : 1h15 return Difference in altitude : 97m Starting altitude : 1853m Altitude of arrival : 1756m Stroller access : no Nature of the ground : Earth Level of the hike : Easy / Family hike / Family special Access to the trail subject to weather conditions. For more information, contact the Chamonix High Mountain Office: +33 (0)4 50 53 22 08.
Your contact
Office de Tourisme de Chamonix
85 place du triangle de l'amitié
74400 Chamonix-Mont-Blanc
This route is proposed by: Office de Tourisme de la Vallée de Chamonix-Mont-Blanc
Be careful and prepared during your getaways. Loopi and the author of this sheet cannot be held responsible for any problems that may occur on this route.